Welcome on the Agar.io Wiki
The Agar.io Wiki is a wiki devoted to the game Agar.io. In this game, players compete as entities called cells to consume and outsmart each other, and attempt to attain and keep the largest total mass of any player in the lobby. On the wiki you can find everything about this amazing game: skins, mechanics, tips and much more. You can go to the forums to talk about this and you can chat with other people on the wiki. Anyone can contribute and add information to the wiki. There is also the Agar.io Ideas Wiki if you have any ideas on Agar.io! Go to http://agarioideas.wikia.com/!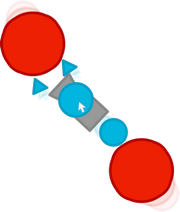 Ad blocker interference detected!
Wikia is a free-to-use site that makes money from advertising. We have a modified experience for viewers using ad blockers

Wikia is not accessible if you've made further modifications. Remove the custom ad blocker rule(s) and the page will load as expected.