The Booster Pack is a set of 3 Packs that included various combinations of coins, game boosts and skins. This offer was available for purchase in the middle of April 2017.
The three packs in this offer include: Superior, Epic and Legendary.
Superior Pack
Cost: $4.99
Includes: 7000 Coins and 3X Mass Boost 24H
Epic Pack
Cost: $9.99
Includes: 16000 Coins, 3X Mass Boost 24H and 3X XP Boost 24H
Legendary Pack
Cost: $19.99
Includes: 50000 Coins, 3X Mass Boost 24H, 3X XP Boost 24H and Eyeball Skin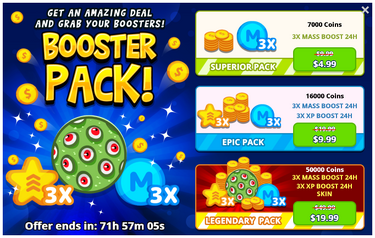 Ad blocker interference detected!
Wikia is a free-to-use site that makes money from advertising. We have a modified experience for viewers using ad blockers

Wikia is not accessible if you've made further modifications. Remove the custom ad blocker rule(s) and the page will load as expected.