Mechanos is an offer with a total of seven skins released in two parts or sub-offers in late June 2017. Each of the two parts of this offer included three and four skins respectively. The Mechanos skins may not be available for purchase in the future. Details of this offer may vary depending on location and platform.
The Mechanos skins are inspired by the animated and movie franchise the Transformers. They were released in the same week as the movie Transformers: The Last Knight.
The Mechanos offer included the following sub-offers: Ancient Knight and Rise of the Mechanos
Ancient Knight
Edit

The three skins in this part of the offer could only be purchased with various packages of coins or DNA.
The Ancient Knight skins included the following: Supremus, Yellow Streak and Mechatron.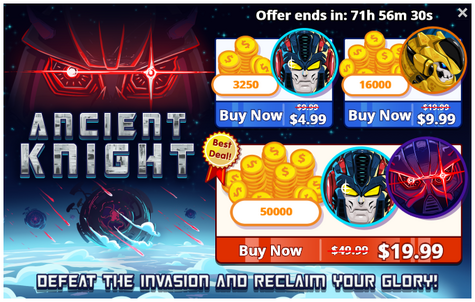 Rise of the Mechanos
Edit

The four skins in this part of the offer could be purchased individually in the Skins Shop under the 'Mechanos' tab.
The Rise of the Mechanos skins included the following: Sonic Boom, Cyber Scarab, Haste and Psycho Driller.
Ad blocker interference detected!
Wikia is a free-to-use site that makes money from advertising. We have a modified experience for viewers using ad blockers

Wikia is not accessible if you've made further modifications. Remove the custom ad blocker rule(s) and the page will load as expected.