A check-in and reward system first introduced to the mobile version as part of the December 2016 update. Typical rewards for opening a Potion include Coins, Trophies, Mass Boosts, XP Boosts and Skin Pieces.
Currently, there are two types of Potions: Mystery and Premium. Mystery Potions are earned based on player performance. Premium Potions must be purchased using the new DNA currency.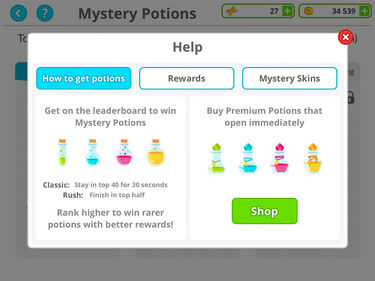 Ad blocker interference detected!
Wikia is a free-to-use site that makes money from advertising. We have a modified experience for viewers using ad blockers

Wikia is not accessible if you've made further modifications. Remove the custom ad blocker rule(s) and the page will load as expected.