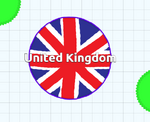 Skins are a feature that cells may use in FFA, Experimental, and Party mode. There are 120+ skins. They are hand drawn and purely cosmetic, and can be applied by typing a certain name into the nickname box. Each skin requires a unique name to be applied to your cell. These names are not case sensitive. You can find a list of all skin pages on the wiki here.
Ad blocker interference detected!
Wikia is a free-to-use site that makes money from advertising. We have a modified experience for viewers using ad blockers

Wikia is not accessible if you've made further modifications. Remove the custom ad blocker rule(s) and the page will load as expected.