Space Pirates is a set of 3 premium skins inspired by the comic and movie franchise Guardians of the Galaxy. The skins were released in the same week as the movie Guardians of the Galaxy Vol. 2.
In the skin Shop they could be purchased individually under the "Space Pirates" tab in early May 2017. These skins may not be available for purchase in the future.
The Space Pirates skins are as follows: Starfighter, Power Badger and Alien Tree.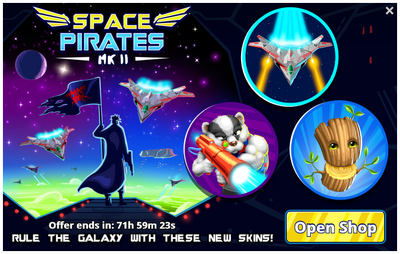 Ad blocker interference detected!
Wikia is a free-to-use site that makes money from advertising. We have a modified experience for viewers using ad blockers

Wikia is not accessible if you've made further modifications. Remove the custom ad blocker rule(s) and the page will load as expected.