The
Store
is a place where you can buy coins,
premium skins
,
mass
boosts and XP boosts.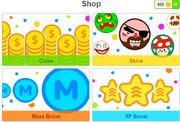 To use the store, you must be logged in using Facebook or Google+.
Go here for a list of store skins.
Here is the some information of leveling up, the mass boost per level, and how much XP is needed to level up.
You can buy coins in this shop with actual real money. Yes, Miniclip, yes.
You can get 10 free coins every video you watch on the mobile version of Agar.io.
You can get 20 free coins every hour on the mobile version of Agar.io.
Go here for more information.
Mass Boosts
Edit
There are 2 types of mass boosts: X2 and X3. The mass boosts were used for 44 and 1320 mass bots, but now they're 'banned' by Miniclip.
XP Boosts
Edit
There are also 2 types of XP boosts: X2 and X3. They are used to double or triple a player's amount of experience after being eaten. Refer here for more information about leveling up.
November 25, 2015 - Google+ users can now log into Agar.io and use the Store.
Ad blocker interference detected!
Wikia is a free-to-use site that makes money from advertising. We have a modified experience for viewers using ad blockers

Wikia is not accessible if you've made further modifications. Remove the custom ad blocker rule(s) and the page will load as expected.