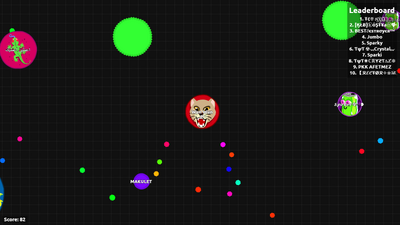 NO THIS IS NOT PARTY MODE
LOOK AT THE LEADERBOARD. FFA IS DEFINITELY A THING OF THE PAST. ALL THOSE C*NCER TEAMS USING STUPID FANCY MESSLETTERS SHIT MAKE ME WANT TO RIP THEIR HAIR OUT. 
MY SURVIVAL TIME: 38 SECONDS (MY BEST OF THE DAY)
TO EVERYONE WHO DOES HAVE BRAINS: PLEASE STOP TEAMING NOW, THEN THE GAME WOULD BE MUCH BETTER
Ad blocker interference detected!
Wikia is a free-to-use site that makes money from advertising. We have a modified experience for viewers using ad blockers

Wikia is not accessible if you've made further modifications. Remove the custom ad blocker rule(s) and the page will load as expected.